Get it? When the
sewing
gets tough? I guess it's Pun-day around here (omg stop me...)! Today would normally be an inspirational post day, but something happened on Friday that changed my plans. I hope, in a way, that it's still inspirational in some respects.
I'm competitive. It's probably a miracle that my husband and I are even married, because when we first met and were just friends, we played a lot of Mario Kart (we were in college...those were the days!) and constantly got mad at one another whenever one of us lost. I don't compete with my husband that much anymore, but I still feel that competitive drive. I'm not in the working world, so my ambition is now directed at my sewing. I'm sure there are lots of people who sew consistently and quietly, not needing any recognition or praise. Maybe it's because I'm a beginner, or maybe I'm insecure, but I can admit that I enjoy praise. Is that awful? Believe me, I have plenty of humility when it comes to my projects (hello
Thurlows!
). I know there is SO much more for me to learn and practice. But sometimes it's just nice if someone else likes what you do, y'know?
I say all that to say that I've entered sewing contests pretty regularly for the last few months. It started with applying for a scholarship to the
Makerie Sewing retreat
last year. I'll admit, it was scary! Talking about yourself is hard enough, talking about yourself PLUS your sewing is harder still. After that, any time I found a contest online that I could reasonably enter, I entered.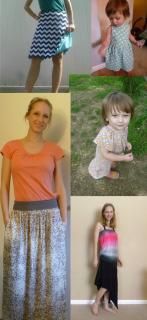 Just a few of the garments
I've entered into contests.
And I was disappointed. Again and again. Now I KNOW that there are thousands of sewists out there who sew better than me. I get that. I've only been at it for a year. But if I entered a contest, I went into it with the belief that I could win. Otherwise, why compete? Sure, it meant I felt the disappointment more. And every time it happened, I said I wasn't going to enter any more contests.
I lied.
Back to Friday. If you follow Girl Charlee on Facebook or
read their blog
then you probably heard about their 4th of July contest. The rules were simple, sew an Independence Day outfit using their fabrics, email them a few photos, and the winner receives a git card. Goodness knows I have tons of their fabrics to choose from, so I entered an outfit for AB (recapped
here
).
And I won.
I didn't know ahead of time, I saw it on Facebook like everyone else. BAM, there was my outfit, my daughter, my name, and a "congratulations". This time, there was no disappointment. There was no self-bashing as I rehashed what I could have done differently. There was simply relief.
Relief, because I had started to doubt myself.
Relief, because it's not all in my head that what I'm doing is worthwhile.
(If this post is giving you second-hand embarrassment to read it, then I apologize. Imagine writing it.)
To stop talking and to somehow give coherence to the theme of "inspiration" I'll leave you with this: you are good enough. Even a beginner like me is doing something useful when she sews. Some people will recognize it, some won't. That's just life. Keep competing with yourself, with others, and keep pushing your skills. You never know when you'll be sitting in your garage, checking Facebook on your iPad, and seeing how it all pays off.